10 Easy DIY Halloween Decorations Your Kids Can Make for Your Apartment
You can use many items already in your home to make DIY Halloween decorations

Milk jugs, paint cans and egg cartons can make for some spooky decor

Add the DIY Halloween decorations to your front door, above your mantel or in your balcony
Halloween marks the beginning of the holiday season, which means it's time to get festive! Decorating isn't just for those who own big homes. There are a lot of ways to make your apartment festive for Halloween.
We found some easy, inexpensive Halloween DIY decorations that kids would not only love to make but love to see around their home, too! With these decor ideas, you'll have the spookiest apartment in your complex.

1. Ghost lantern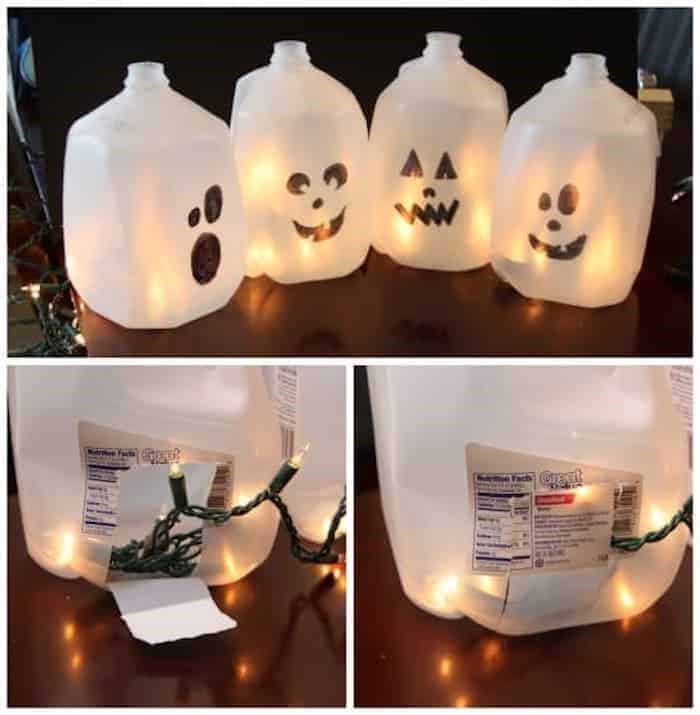 Save your milk jugs for this adorable project. All you need is a milk jug, sharpie, pencil, knife, rocks and mini lights.
Draw out the face you want on the jug with a pencil and then fill it in with a sharpie marker. Add a few rocks to the bottom to weigh it down so it won't get knocked over.
Cut a small flap on the opposite side of the jug for the lights to go in. String in your lights and place your ghosts around your space.
2. Egg carton bats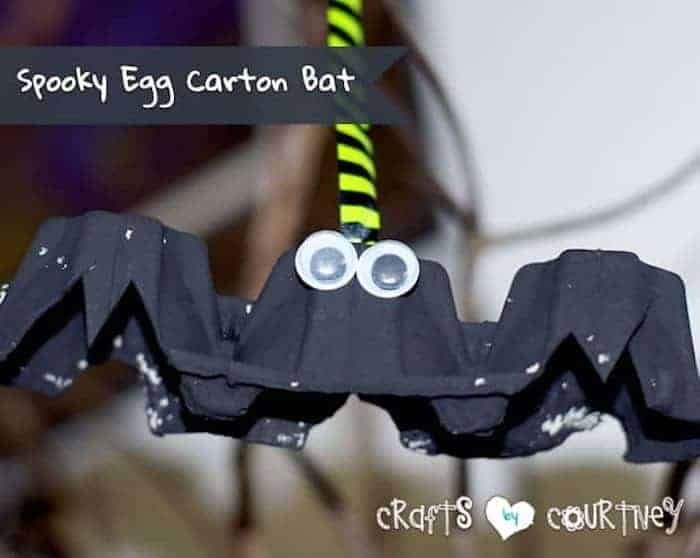 Upcycling makes great DIY projects. To make some awesome hanging bats for your apartment, save your next carton of eggs. For this project, you need an egg carton, scissors, paint, string and googly eyes.
Let your kids get creative and paint the bats however they see fit. Add googly eyes to the middle cup and attach a string to the top. These bats will be sure to spook up your apartment!
3. Spider webs
Your kids will love making these spider webs to hang around your apartment. Fake spiders are optional but will definitely make your webs look more realistic.
Start by blowing up your balloon. Attach a string to the end so you can hang it to dry once you're done. Place a good bit of yarn into a bowl with glue and water. Mush it all together so it creates a paste on the yarn. Wrap the yarn around the balloon so it looks like a web. Once you've created your masterpiece, let it hang until it's dry.
Lastly, pop the balloon to reveal a creepy web that no one will suspect was made by anyone but a spider! Glue on your fake spiders to complete the webs.
4. Spider windows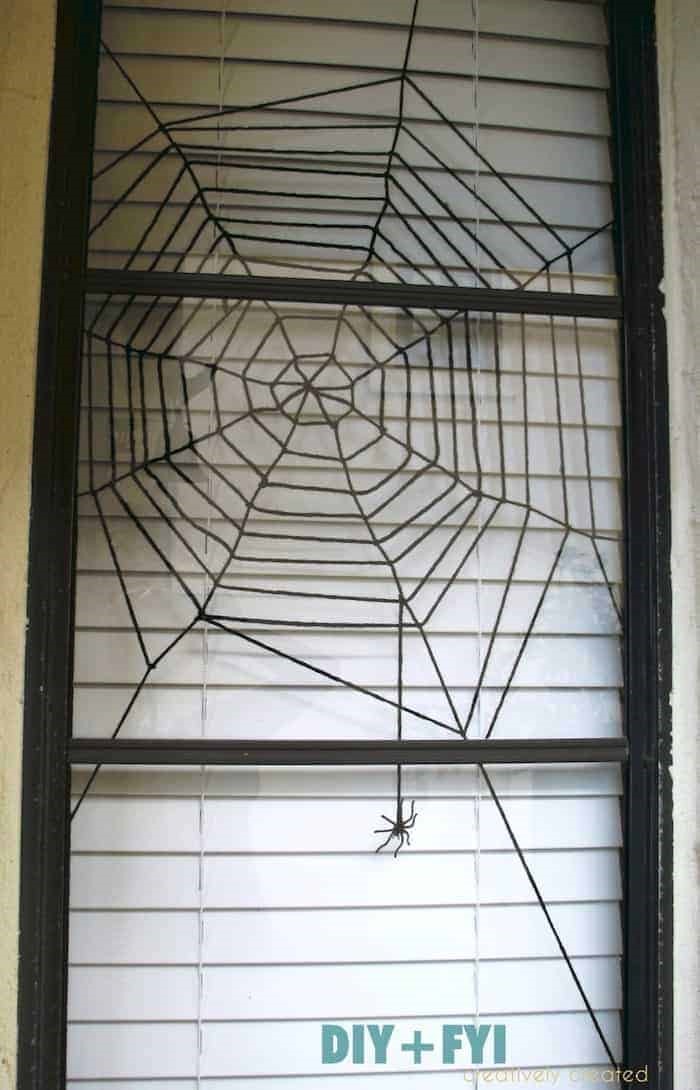 If you want to scare your neighbors, this spiderweb window decoration is for you. To make this, you need black yarn, scissors and tape.
Using your yarn, create a spider web in your window from the inside of your apartment. Use your tape to keep the web in place. Get creative. You can't go wrong with this web!

5. Front door mummy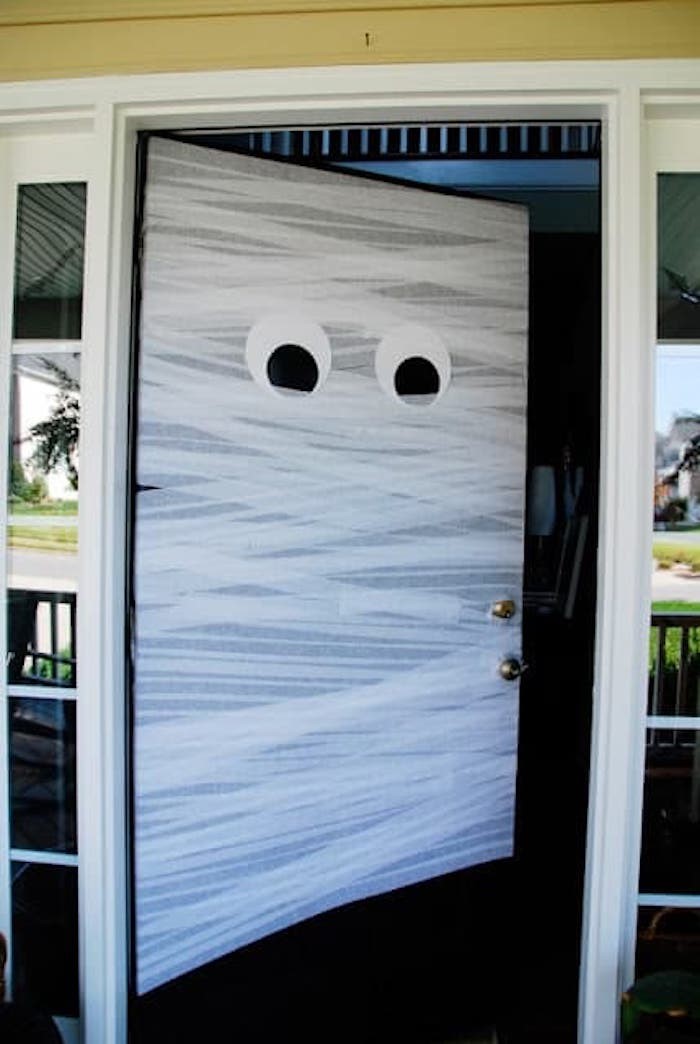 Create a chilling entrance to your apartment home by making this front door mummy. The supplies include white streamers, black and white paper, scissors and tape. All you have to do to create your mummy door is wrap, wrap, wrap. Using your scissors, cut a large circle out of the white paper and a smaller circle out of the black paper.
Tape the black paper on top of the white to make eyes. Tape them near the top of the door to complete your door mummy!
6. Eyeball wreath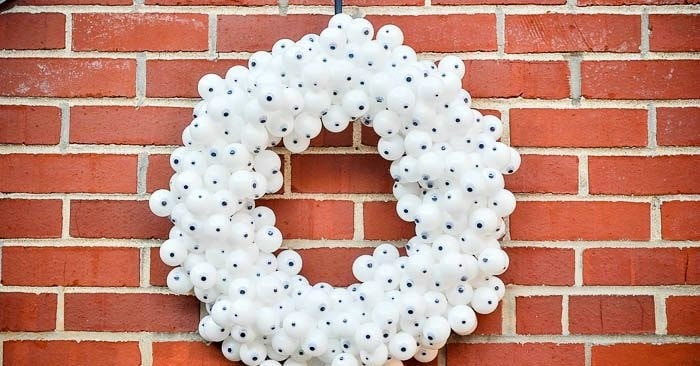 This wreath looks scary yet it's easy to make. Grab a foam wreath from the local craft store, a bag of googly eyes and ping pong balls. With a hot glue gun, start attaching the ping pong balls, layer by layer. Once you're good with the layout, start attaching the eyes to each of the ping pong balls. You can follow the easy tutorial here.

7. Candy corn wreath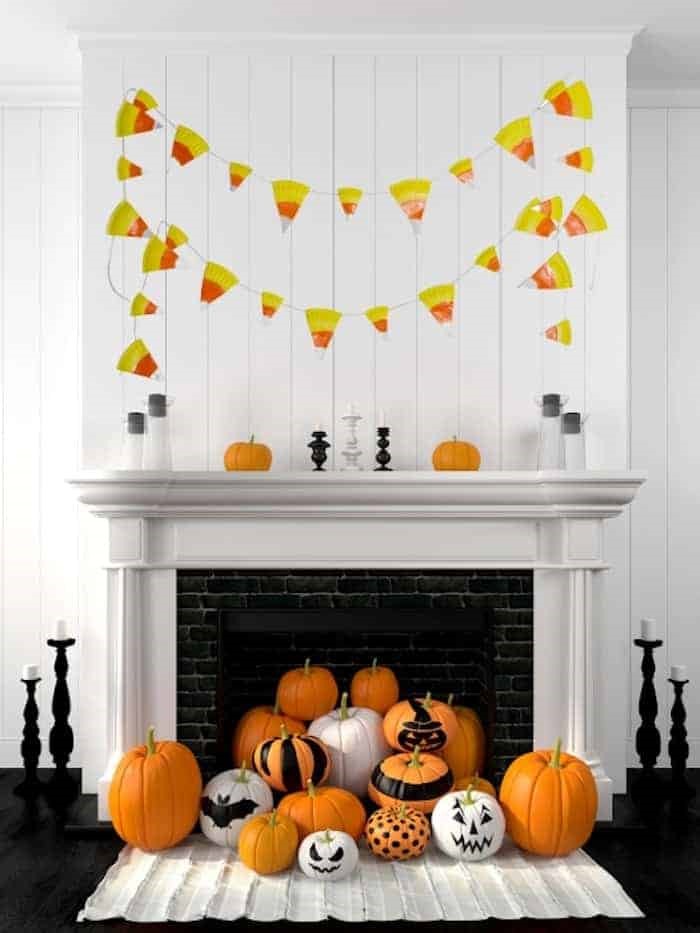 This is a good DIY Halloween decoration to do with kids during a Saturday afternoon. Grab a stack of paper plates and on the back, paint a circle of white in the middle, then a bigger orange circle and then the outside circle in yellow. Let me plates dry completely.
Once dry, cut the plates into eight slices (similar to cutting a pizza). Use a hole punch to string twine through each plate and then hang it up above your mantel.
8. Front yard tombstones
Photo courtesy of

eHow
This tombstone would be a scary addition to your front door or to your little outdoor space. Draw the tombstone outline on a cardboard box and cut out two identical pieces (these will be the front and back of the tombstone). This tutorial explains how to attach them together.
After your cardboard tombstone is complete, paper mache the outside with newspaper, allow to dry and use dark gray spray paint to get it to that cemetery color. Paint the letters using a stencil and add cobwebs for extra flair.
9. Tin can ghosts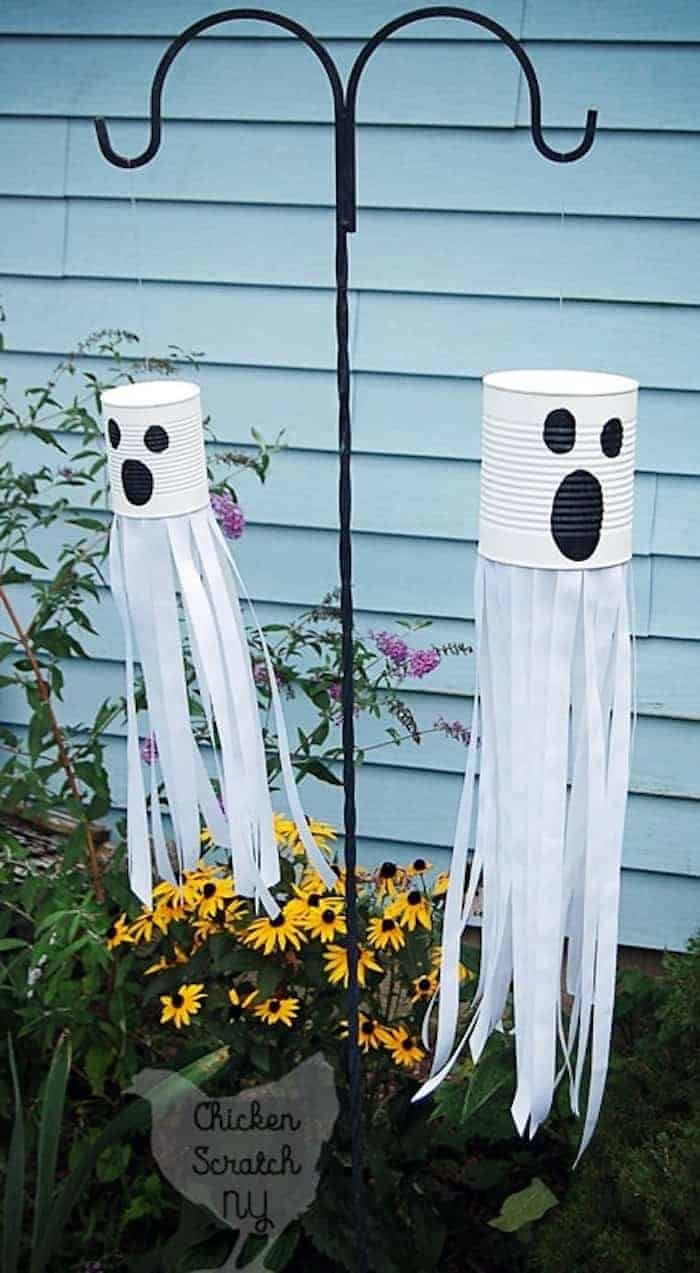 Boo! Paint one or two large tin cans white. Once dry, draw the ghost's face on each one — have fun with this and make some fun expressions. Cut some white ribbons in different lengths and glue them to the inside of the can. Don't worry about being perfect. If anything, raggedy lines will add to the effect.
Then, add a little hook to the top for hanging. This tutorial shows you how.

10. Scary eyes for plants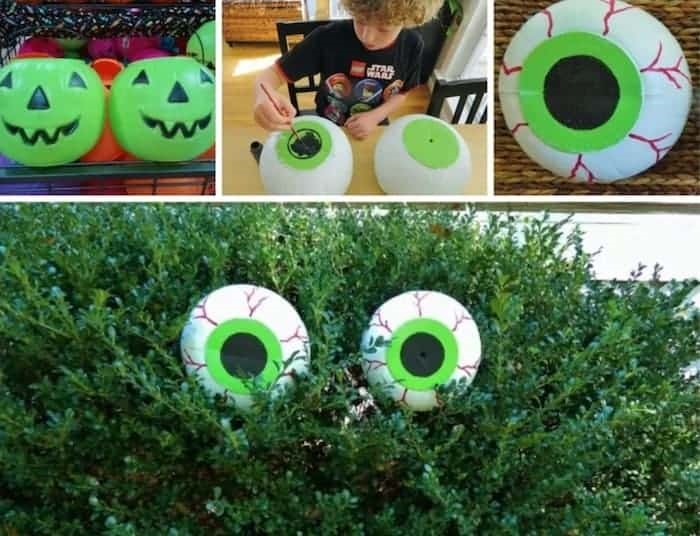 These creepy eyes in plants will get a jump out of your neighbors. Start by purchasing two green pumpkin baskets, you'll be using the bottom of them for the eyes. Tape off the bottom and paint the rest of the pumpkin white. Once dry, paint the red veins and a black circle on the green bottom.

Bring the spooky to your home
Halloween decor doesn't have to be expensive. You can use materials already sold at the dollar store or that you have on hand.
Use paint cans, paper plates, tissue paper and other affordable materials to make your apartment the scariest in the whole complex.
Article By: Muriel Vega